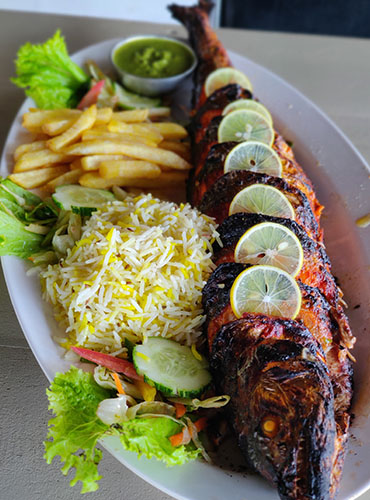 Whole Fish Grilled, Fried or Baked
We have really excellent cooks at Boomerang. Over the years they have perfected the art of cooking seafood just right so that it is tender and juicy and full of natural flavour and if you prefer to tantalise your tastebuds you can select from a variety of sauces which compliment the delicate flavour of fish. We also offer healthy baked options of whole fish baked in the tandoor. Order your lobsters and crabs in advance so that we have time to procure fresh and marinate it for you. 
Call for details on 8767458665
We serve cocktails all day along with ice cold beers, Goa is the place you come to chill out, come and try out the delicious options. For the non alcoholics, we have a beautiful selection of tasty mocktails which are not only refreshing but also look beautiful in your instagram pictures. Do tag us @boomerangcolva when you visit. 
Special offers on wines all day at Boomerang. Call for details.
At Boomerang we specialize in big bows of salads which are really meal replacements if eaten by itself. Tasty, healthy and really satisfying, we have salad options to suit almost everyone. Come try out our delicious and pretty bowls by yourself or share for variety. 
Try our Refreshing Fruity Salad Bowl
Why eat & drink at Boomerang!
We can talk loads about ourself but you can check out the reviews online on Google and various platforms. We have a fantastic team in place who are really professional at delivering the tastiest food. We cook fresh so don't expect instant delivery but the food is worth waiting for. 
We stock most of the regular and premium spirits and drinks. You can always call and ask us to keep your brand ready. We also cater for groups and parties.